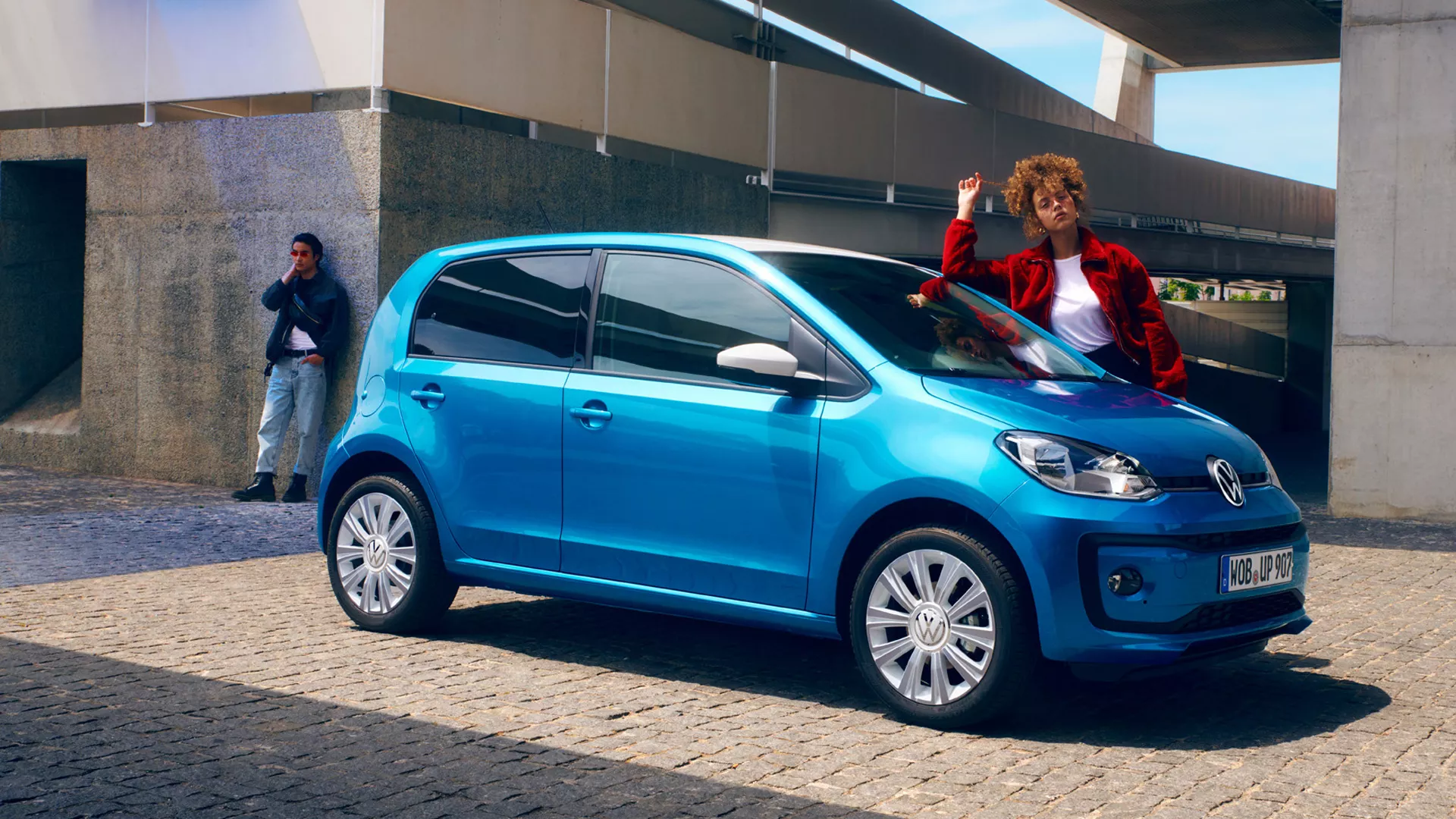 up! Zawsze w centrum wydarzeń.
up! mierzy zaledwie 3,6 metra długości i zachwyca zamiłowaniem do detali. Nowoczesny, świeży design zadowoli każdego estetę. Choć up! jest niewielki, mogą w nim wygodnie podróżować cztery osoby.
Stylistyka i wyposażenie
Każdy Volkswagen charakteryzuje się wysokiej jakości wyposażeniem i rozpoznawalnym designem. A dzięki licznym opcjom indywidualizacji stworzysz własnego, niepowtarzalnego up!. Będziesz zaskoczony, jak wiele możliwości masz do wyboru.
Infotainment
Czy chcesz zadzwonić podczas jazdy, czy sprawdzić aktualne informacje o ruchu drogowym, wyznaczyć najszybszą trasę do celu, czy po prostu posłuchać ulubionej muzyki - up! daje ci wiele możliwości wykorzystania nowoczesnych technologii w intuicyjny i prosty sposób.
Asystenci kierowcy
Inteligentne systemy wspomagania kierowcy w twoim up! zapewniają większy komfort jazdy. Wspierają Cię w krytycznych sytuacjach lub wręcz pomagają ich uniknąć. Nawet jeśli obecność tych technologii odczuwać będziesz sporadycznie, dobrze wiedzieć, że masz je do dyspozycji.
Dynamika i osiągi
Nowoczesna technologia silników up! charakteryzuje się wysoką mocą i momentem obrotowym. Jeżeli lubisz jeździć i robisz to często, a chcesz utrzymać spalanie na niskim poziomie, będzie to dla Ciebie idealne rozwiązanie.
Komfort
Rozgość się w up!. Dzięki jego bogatemu wyposażeniu podstawowemu, intuicyjnej obsłudze i wielu wygodnym dodatkom będziesz cieszył się nim na nowo każdego dnia.
up! - Twoja strefa komfortu.
Dostępny od wersji wyposażenia move up! pakiet Kierowcy poprawia komfort jazdy, dzięki systemom wspomagającym, z których już nigdy nie będziesz chciał zrezygnować. Czujnik deszczu automatycznie reguluje częstotliwość pracy wycieraczek. Funkcja coming home/leaving home włącza oświetlenie zewnętrzne przy otwieraniu samochodu i pozostawia je włączone jeszcze przez jakiś czas po zamknięciu auta, abyś lepiej widział po zmroku, a także był lepiej widziany przez innych kierowców. Funkcja awaryjnego hamowania w mieście, w granicach możliwości systemu, pomaga uniknąć najechania na przeszkodę lub zminimalizować skutki potencjalnej kolizji.
Chwile grozy są mu obce. up! z funkcją awaryjnego hamowania w mieście.
Funkcja awaryjnego hamowania w mieście.
Opcjonalna funkcja awaryjnego hamowania w mieście doskonale sprawdza się podczas jazdy z niewielką prędkością przy dużym natężeniu ruchu. Przy prędkości między około 5 km/h a 30 km/h automatycznie chroni przed najechaniem na przeszkodę. W tym celu czujnik laserowy monitoruje obszar do dziesięciu metrów przed samochodem. Gdy up! za bardzo zbliży się do jadącego przed nim pojazdu lub innej przeszkody, a kierowca nie zareaguje, system, w granicach swoich możliwości, automatycznie zmniejszy prędkość, z jaką dojdzie do ewentualnego zderzenia. Ponadto system wspiera kierowcę przy hamowaniu, zwiększając automatycznie jego ciśnienie. Funkcja awaryjnego hamowania w mieście może zatem pomóc zminimalizować skutki uderzenia lub – w idealnej sytuacji – całkowicie uniknąć kolizji.
Kamera cofania - zmień punkt widzenia.
Od wariantu wyposażenia move up! możesz zamówić opcjonalną kamerę cofania Rear Assist. Kamera aktywuje się po włączeniu biegu wstecznego, a na ekranie systemu Infotainment wyświetlony zostaje obraz obszaru za samochodem, co ułatwia rozpoznanie przeszkód przy cofaniu. Rear Assist wyświetla także linie pomocnicze pozwalające lepiej ocenić odległość. To się nazywa "dobry widok".