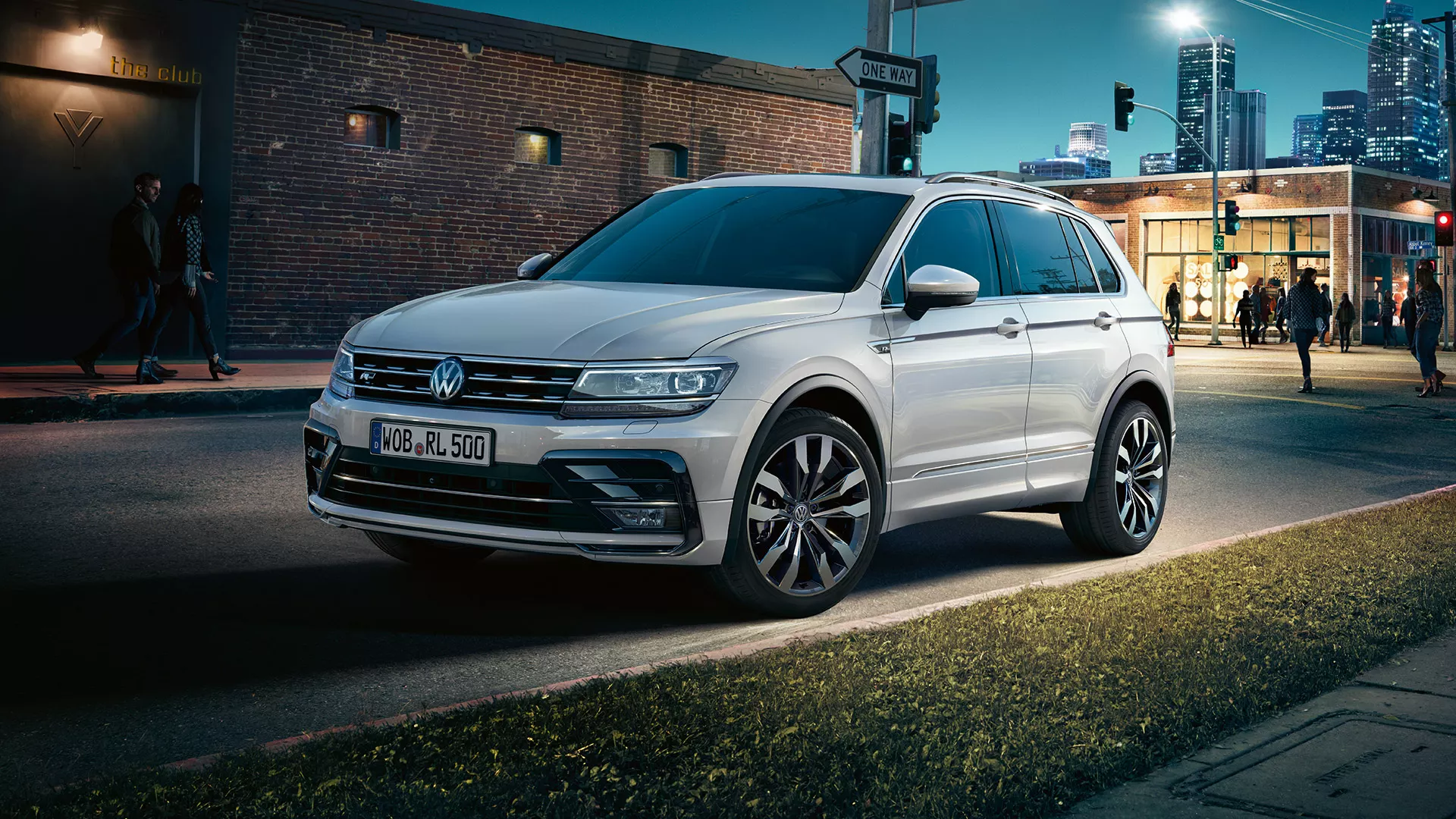 Tiguan. Doskonałość to dopiero początek.
Już przyciągająca wzrok stylistyka Tiguana zapowiada, do czego jest zdolny. Opcjonalny pakiet Offroad podkreśla jego możliwości wizualnie i funkcjonalnie. Mocne silniki i napęd na wszystkie koła 4MOTION Active Control, ze zróżnicowanymi profilami jazdy, gwarantują optymalną kontrolę i maksymalną przyjemność z jazdy. Niezależnie od dróg, które wybierzesz.
Stylistyka i wyposażenie
Każdy Volkswagen charakteryzuje się wysokiej jakości wyposażeniem i rozpoznawalnym designem. A dzięki licznym opcjom indywidualizacji stworzysz własnego, niepowtarzalnego Tiguana. Będziesz zaskoczony, jak wiele możliwości masz do wyboru.
Infotainment
Czy chcesz zadzwonić podczas jazdy, czy sprawdzić aktualne informacje o ruchu drogowym, wyznaczyć najszybszą trasę do celu, czy po prostu posłuchać ulubionej muzyki - Tiguan daje ci wiele możliwości wykorzystania nowoczesnych technologii w intuicyjny i prosty sposób.
Asystenci kierowcy
Inteligentne systemy wspomagania kierowcy w twoim Tiguanie zapewniają większy komfort jazdy. Wspierają Cię w krytycznych sytuacjach lub wręcz pomagają ich uniknąć. Nawet jeśli obecność tych technologii odczuwać będziesz sporadycznie, dobrze wiedzieć, że masz je do dyspozycji.
Dynamika i osiągi
Nowoczesna technologia silników Tiguana charakteryzuje się wysoką mocą i momentem obrotowym. Jeżeli lubisz jeździć i robisz to często, a chcesz utrzymać spalanie na niskim poziomie, będzie to dla Ciebie idealne rozwiązanie.
Komfort
Rozgość się w Tiguanie. Dzięki jego bogatemu wyposażeniu podstawowemu, intuicyjnej obsłudze i wielu wygodnym dodatkom będziesz cieszył się nim na nowo każdego dnia.
System czterech kamer. Widzisz, co dzieje się wokół Ciebie.
System obserwacji otoczenia Area View.
Dostępny na życzenie system obserwacji otoczenia Area View przenosi na ekran systemu Infotainment obraz z czterech kamer rozmieszczonych na nadwoziu. Możesz dzięki temu zobaczyć fragment ulicy niewidoczny z fotela kierowcy, precyzyjnie podjechać do dyszla przyczepy lub omijać przeszkody przy cofaniu. Area View sprawdza się szczególnie w sytuacji, gdy masz mało miejsca do manewrowania, bowiem wyświetla na ekranie widok z każdej strony samochodu. System może także połączyć obrazy ze wszystkich czterech kamer oraz generuje widok z lotu ptaka. Docenisz tę funkcję szczególnie podczas wypraw poza asfaltem.
Nigdy nie zbacza z obranego toru.
Opcjonalny asystent utrzymania pasa ruchu, w granicach możliwości systemu, pomaga zapobiegać wypadkom spowodowanym przypadkowym opuszczeniem pasa ruchu. Kamera w stopce wewnętrznego lusterka rejestruje oznaczenia na jezdni. Gdy Tiguan zjeżdża ze swojego pasa ruchu, Lane Assist ostrzega kierowcę delikatnym skrętem w przeciwną stronę. Po aktywacji system włącza się automatycznie przy prędkości 65 km/h oraz przy prędkości poniżej 60 km/h, a po włączeniu kierunkowskazu - samoczynnie wyłącza się.
Samochód, który parkuje się sam.
Asystent parkowania Park Assist.
Zmieszczę się, czy się nie zmieszczę? Dostępny na życzenie asystent parkowania Park Assist przy przejeżdżaniu wzdłuż miejsc postojowych mierzy czujnikami luki parkingowe po obu stronach i znajduje odpowiednią dla Twojego Volkswagena. Odległość od krawędzi jezdni musi wynosić przy tym od 0,5 do 1,5 metra, zaś prędkość nie może przekraczać 40 km/h. Włączając kierunkowskaz, wskażesz systemowi, po której stronie chcesz zaparkować i Park Assist rozpocznie manewr. W granicach możliwości systemu Park Assist automatycznie wprowadzi samochód nawet w niewielkie miejsca postojowe równoległe lub prostopadłe do drogi i wyjedzie z miejsc równoległych. Kierowca musi tylko obsługiwać pedał hamulca i gazu, przez cały czas zachowując kontrolę nad samochodem.
Manewrowanie z przyczepą staje się dziecinnie proste.
Asystent manewrowania z przyczepą Trailer Assist.
Manewrowanie z przyczepą może być nie lada wyzwaniem dla mniej wprawnych kierowców, bowiem przyczepa nie zawsze reaguje w sposób przewidywalny. Może na przykład skręcać w przeciwną stronę, niż byśmy chcieli. Przy precyzyjnym cofaniu decydujący jest kąt skrętu kierownicy. Asystent manewrowania z przyczepą Trailer Assist przejmuje na siebie ruchy kierownicą. Kierowca musi najpierw włączyć bieg wsteczny, a następnie wcisnąć przycisk asystenta parkowania i przy użyciu przycisków regulacji lusterka wskazać kierunek, w którym ma poruszać się przyczepa. Trailer Assist umieści ją automatycznie we wskazanym miejscu. W gestii kierowcy pozostaje zmiana biegów, przyspieszanie i hamowanie. Kierowca jednak zawsze zachowuje kontrolę i może reagować na zmiany sytuacji.