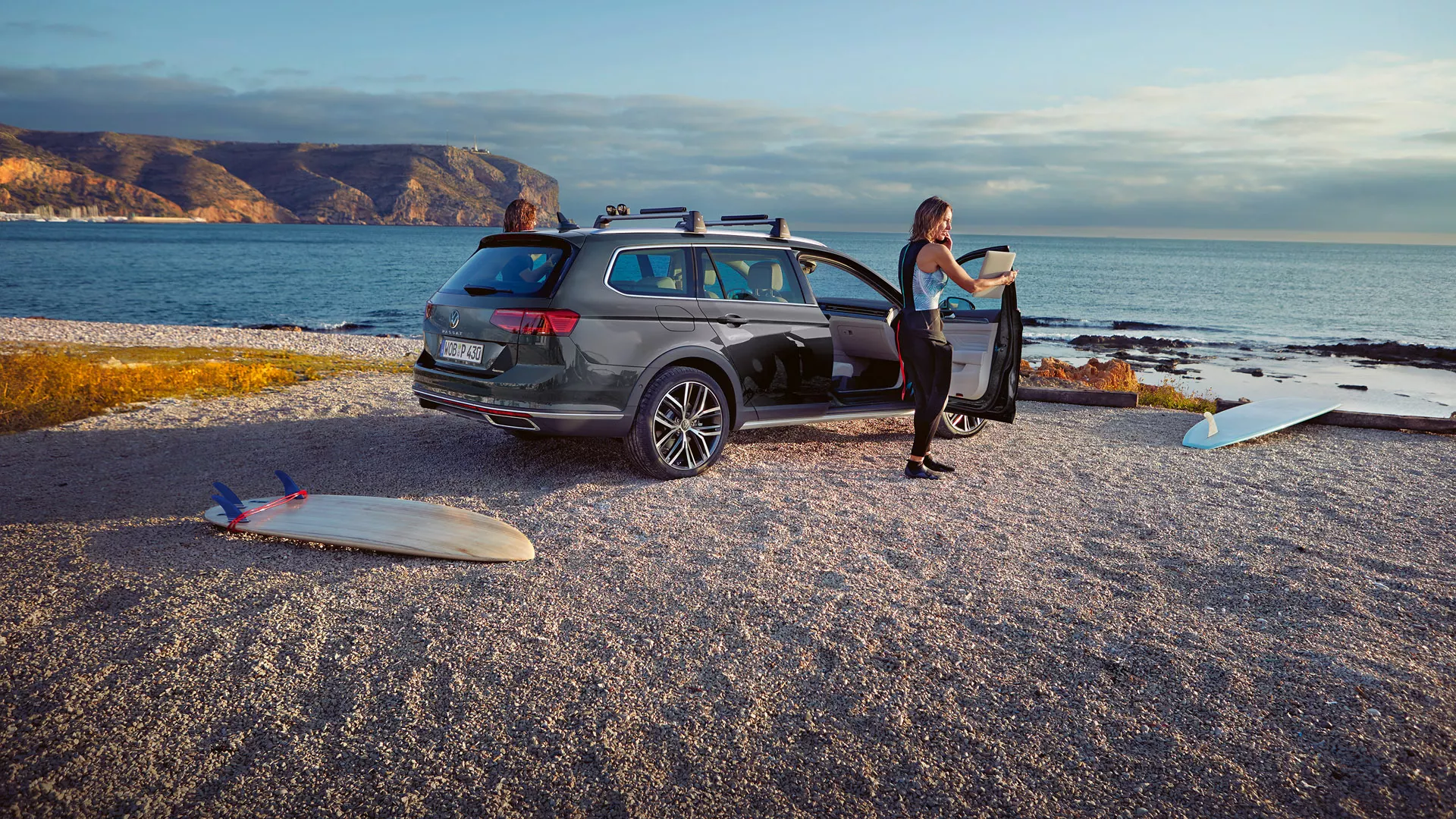 Passat Alltrack. Tam gdzie warto dotrzeć, nie ma łatwych dróg.
Chcesz poszerzać swoje horyzonty? Nie boisz się przekraczania granic? Niezależnie od tego, co zamierzasz, Passat Alltrack pozwoli Ci zachować niezależność. Mocny napęd na wszystkie koła 4MOTION i specjalny program jazdy Offroad będą wspierać Cię także poza utwardzonymi drogami.
Stylistyka i wyposażenie
Każdy Volkswagen charakteryzuje się wysokiej jakości wyposażeniem i rozpoznawalnym designem. A dzięki licznym opcjom indywidualizacji stworzysz własnego, niepowtarzalnego Passata Alltracka. Będziesz zaskoczony, jak wiele możliwości masz do wyboru.
Infotainment
Czy chcesz zadzwonić podczas jazdy, czy sprawdzić aktualne informacje o ruchu drogowym, wyznaczyć najszybszą trasę do celu, czy po prostu posłuchać ulubionej muzyki - Passat Alltrack daje ci wiele możliwości wykorzystania nowoczesnych technologii w intuicyjny i prosty sposób.
Asystenci kierowcy
Inteligentne systemy wspomagania kierowcy w twoim Passacie Alltracku zapewniają większy komfort jazdy. Wspierają Cię w krytycznych sytuacjach lub wręcz pomagają ich uniknąć. Nawet jeśli obecność tych technologii odczuwać będziesz sporadycznie, dobrze wiedzieć, że masz je do dyspozycji.
Dynamika i osiągi
Nowoczesna technologia silników Passata Alltracka charakteryzuje się wysoką mocą i momentem obrotowym. Jeżeli lubisz jeździć i robisz to często, a chcesz utrzymać spalanie na niskim poziomie, będzie to dla Ciebie idealne rozwiązanie.
Komfort
Rozgość się w Passacie Alltracku. Dzięki jego bogatemu wyposażeniu podstawowemu, intuicyjnej obsłudze i wielu wygodnym dodatkom będziesz cieszył się nim na nowo każdego dnia.
Duże natężenie ruchu? Żaden problem.
Już nie musisz nieustannie pilnować, czy zachowujesz wystarczającą odległość od jadącego przed Tobą pojazdu. Pomoże Ci w tym dostępny standardowo aktywny tempomat ACC.
Czujnik ACC mierzy odległość i prędkość pojazdów jadących przed Volkswagenem. W przypadku opcjonalnej przekładni dwusprzęgłowej DSG, w kolumnie samochodów i w korkach, system przyhamowuje samochód do zupełnego zatrzymania. A jeżeli postój nie trwa długo – automatycznie rusza. Przy prędkości do 210 km/h, w granicach możliwości systemu, ACC utrzymuje odległość od pojazdu jadącego z przodu.
Czasem może zdarzyć się coś nieprzewidzianego i konieczne jest awaryjne hamowanie. W takich przypadkach pomaga należący do pakietu system obserwacji otoczenia Front Assist z funkcją awaryjnego hamowania w mieście. Jeżeli przy prędkości do 210 km/h system, w granicach swoich możliwości, zauważy niebezpieczne zbliżanie się do jadącego z przodu pojazdu, Front Assist ostrzeże kierowcę dźwiękowo i optycznie, a jednocześnie przygotuje układ hamulcowy na ewentualne ostre hamowanie. Jeżeli sytuacja nie zmieni się, system automatycznie zainicjuje hamowanie, redukując prędkość, z jaką mogłoby nastąpić zderzenie. Front Assist wspiera kierowcę także przy właściwym hamowaniu - gwarantując jego maksymalną siłę.
Funkcja awaryjnego hamowania w mieście stanowi rozszerzenie systemu Front Assist. Przy prędkości między 5 a 30 km/h może ona zareagować awaryjnym hamowaniem w ostatnim momencie, tuż przed uderzeniem w przeszkodę.
Manewrowanie z przyczepą staje się dziecinnie proste.
Asystent manewrowania z przyczepą.
Manewrowanie z przyczepą może być nie lada wyzwaniem dla mniej wprawnych kierowców, bowiem przyczepa nie zawsze reaguje w sposób przewidywalny. Może na przykład skręcać w przeciwną stronę, niż byśmy chcieli. Przy precyzyjnym cofaniu decydujący jest kąt skrętu kierownicy. Asystent manewrowania z przyczepą Trailer Assist przejmuje na siebie ruchy kierownicą. Kierowca musi najpierw włączyć bieg wsteczny, a następnie wcisnąć przycisk asystenta parkowania i przy użyciu przycisków regulacji lusterka wskazać kierunek, w którym ma poruszać się przyczepa. Trailer Assist umieści ją automatycznie we wskazanym miejscu. W gestii kierowcy pozostaje zmiana biegów, przyspieszanie i hamowanie.
Twój Volkswagen dopasowuje się do Twojego stylu jazdy.
Funkcja wyboru profilu jazdy.
Volkswagenem możesz jeździć dynamicznie, a zarazem ekonomicznie. Ale czy nie masz czasem ochoty na jeszcze bardziej sportową jazdę? A może chciałbyś osiągnąć lepsze wyniki spalania? Z opcjonalną funkcją wyboru profilu jazdy możesz dopasować charakterystykę zachowania się samochodu do sytuacji lub swoich potrzeb. Wystarczy wybrać żądany profil za pomocą przycisku lub ekranu dotykowego systemu Infotainment, aby układ napędowy, kierowniczy, skrzynia biegów (w przypadku dwusprzęgłowej przekładni DSG), a nawet reflektory automatycznie dopasowały się do wybranej opcji. Naturalnie możesz również cieszyć się charakterystycznym dla Volkswagenów komfortem - wystarczy wybrać ustawienie Normal.
Oprócz profili jazdy Eco, Normal, Sport i Individual, Passat Alltrack posiada również tryb Offroad, w którym aktywowany jest system ABS zoptymalizowany pod kątem jazdy terenowej oraz zmienia się charakterystyka przyspieszenia. Asystent zjazdu ze wzniesienia i podjazdu zapobiega staczaniu się samochodu, a także zmniejsza prędkość obrotową silnika przy zjeżdżaniu.