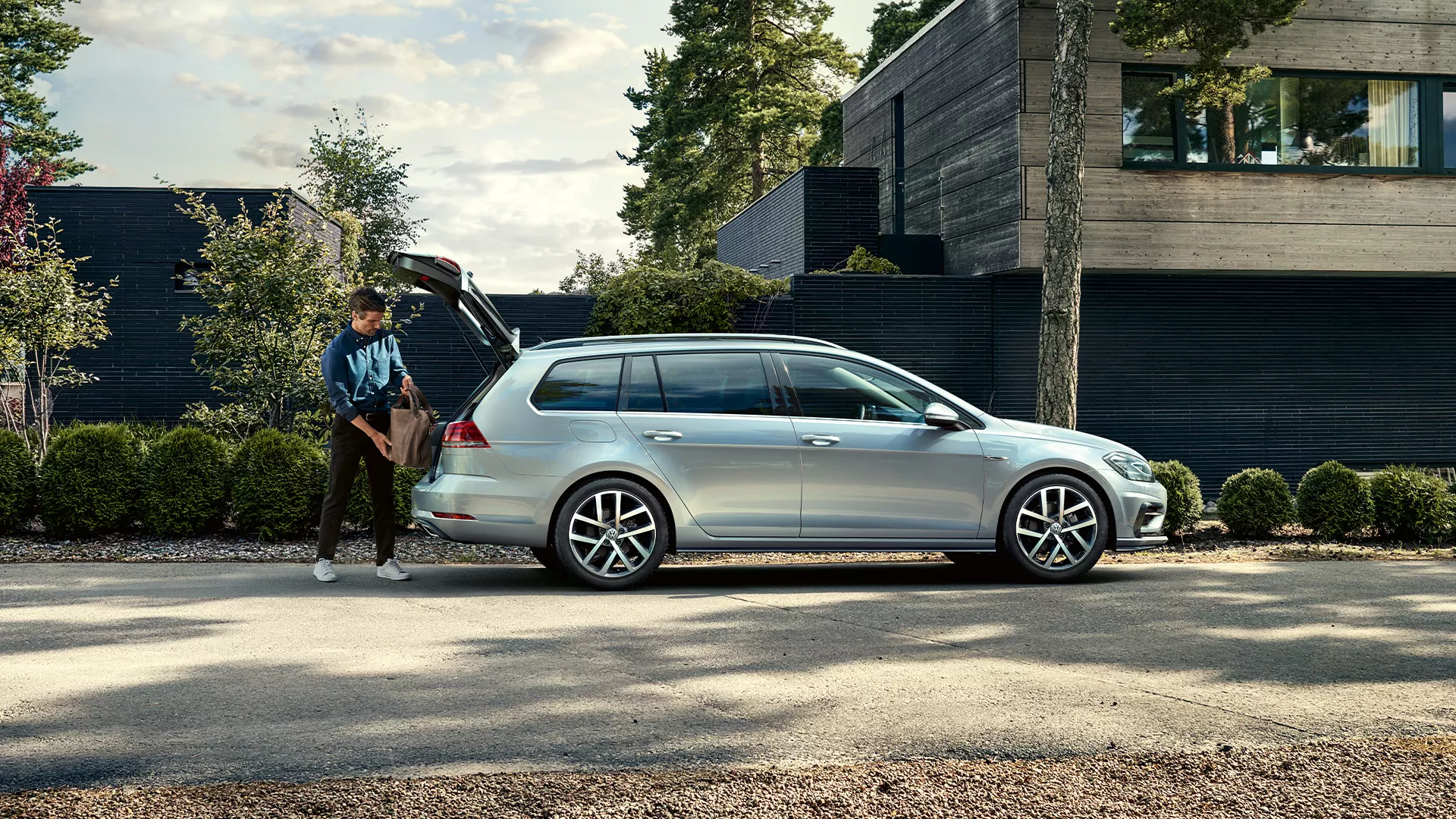 Zaskakująco przestronny. Najbardziej intuicyjny.
Golf Variant ma bagażnik o pojemności aż 605 litrów w standardowej konfiguracji (i 1620 litrów po złożeniu siedzeń). Niska krawędź załadunku i regulowana podłoga bagażnika ułatwiają pakowanie. Liczne systemy wspomagające oraz nagrodzony za swą intuicyjność system radio-nawigacyjny, zapewniają bezpieczeństwo i rozrywkę. Golfa Varianta doceni cała rodzina, w każdej podróży.
Komfort w Golfie Variancie to zrozumienie potrzeb nowoczesnej rodziny.
Rozgośćcie się w Golfie Variancie. Dzięki jego niesamowicie intuicyjnej obsłudze, bogatemu wyposażeniu podstawowemu i wielu dodatkom każdy znajdzie w nim dla siebie wygodne miejsce.
Przyjaciel rodziny ma teraz nowszą stylistykę i bogatsze wyposażenie.
Trzy słowa, które najlepiej opisują wygląd Golfa Varianta: przestronny, elegancki i dynamiczny. Ten model naprawdę przyciąga wzrok.
Stary znajomy, nowe pakiety wyposażenia R-Line.
Nadaj sportowy charakter swojemu Golfowi Variant: pakiety wyposażenia R-Line to doskonały sposób, by Twój samochód wyglądał jeszcze bardziej wyjątkowo.
Ekonomiczne silniki i wysokie osiągi.
Silniki w Golfie Variancie są idealne dla osób, które kochają podróżować, a przy tym zależy im na niskich kosztach użytkowania samochodu. Oszczędność zwiększa się dzięki zaawansowanej technologii podnoszącej wydajność i poprawiającej dynamikę przenoszenia mocy. To m.in dzięki temu całkowity koszt użytkowania pojazdu jest jeszcze niższy.
Infotainment - Golf Variant rozumie Cię bez słów.
Golf Variant daje Ci wiele możliwości wykorzystania nowoczesnych technologii w jeszcze bardziej intuicyjny i prosty sposób. Jego rewolucyjna funkcja sterowania gestem ułatwi każdą podróż.
Golf Variant sprawdzi się w każdej sytuacji.
Lata doświadczeń z kierowcami zaowocowały powstaniem inteligentnych systemów wspomagania kierowcy zapewniających większy komfort jazdy. Golf, teraz jeszcze bardziej intuicyjny, wspiera Cię w trudnych sytuacjach lub zapobiega im. Nawet jeśli obecność tych technologii odczuwać będziesz sporadycznie, dobrze wiedzieć, że Twój samochód zawsze Cię wspiera .
Twój Nowy Golf Variant dba o bezpieczną zmianę pasa i wygodny wyjazd z miejsca parkingowego.
Jeśli w lusterkach wstecznym lub bocznym nie możesz zobaczyć zbliżającego się do Ciebie pojazdu, oznacza to, że znajduje się on w niebezpiecznym martwym punkcie. Teraz o Twoje bezpieczeństwo podczas wyjeżdżania zadba opcjonalny czujnik martwej strefy. Działający od prędkości 15 km/godz. czujnik ostrzeże Cię, podświetlając diodę znajdującą się na lusterku zewnętrznym Golfa. Jeżeli mimo wszystko włączysz kierunkowskaz, dioda zacznie migać jaśniej i z większą częstotliwością.
Czujnik Blind Spot, w połączeniu z asystentem utrzymania pasa ruchu Lane Assist,w granicach możliwości systemu, ostrzega przed zmianą pasa ruchu za pomocą korygującego skrętu kierownicą.
Asystent wyjazdu z miejsca parkingowego Rear Traffic Alert, w granicach swoich możliwości, pomaga wyjechać tyłem z miejsca parkingowego. Czujniki w tylnym zderzaku monitorują ruch za samochodem. W przypadku zbliżania się pieszego, roweru lub innego pojazdu system ostrzega kierowcę zarówno sygnałem dźwiękowym, jak i optycznym - na wyświetlaczu radia lub systemu nawigacyjnego. Jeżeli nie zareagujesz na ostrzeżenie, system automatycznie zainicjuje hamowanie, by zminimalizować skutki zderzenia lub nawet go uniknąć.
Korki? Dla Ciebie i Nowego Golfa to nie problem.
Opcjonalny asystent jazdy w korkach wykorzystuje sprawdzone funkcje, jak aktywny tempomat ACC i asystent utrzymania toru jazdy Lane Assist, aby zapewnić wygodne poruszanie po zatłoczonych ulicach. Golf Variant będzie automatycznie podążał za znajdującym się przed nim samochodem, utrzymując pas ruchu i odpowiedni dystans.
Opcjonalny system Emergency Assist włącza się automatycznie, gdy kierowca nie wykazuje żadnej aktywności i nie reaguje na ostrzeżenia. W takiej sytuacji system, poprzez szarpnięcia hamulców, dźwiękowe i optyczne sygnały ostrzegawcze, włączenie świateł awaryjnych oraz delikatne ruchy kierownicą, próbuje zmusić kierowcę do reakcji, a także ostrzec pasażerów i innych uczestników ruchu. Jeżeli kierowca nadal pozostanie bierny, samochód zostanie zatrzymany w sposób kontrolowany. System może więc, w granicach swoich możliwości, zapobiec wypadkowi.
Asystent jazdy w korkach i Emergency Assist wchodzą w skład pakietu Drogowego Plus.
Duże natężenie ruchu? Dla nowego Golfa Variant to żaden kłopot.
Już nie musisz nieustannie pilnować odległości od jadącego przed Tobą pojazdu. Pomoże Ci w tym dostępny w standardzie od wersji Highline aktywny tempomat ACC. Czujnik ACC mierzy odległość i prędkość pojazdów jadących przed Twoim Golfem. Podczas jazdy w kolumnie samochodów i w korkach system współpracuje z opcjonalną przekładnią dwusprzęgłową DSG i wyhamowuje samochód nawet do zupełnego zatrzymania, a także - jeżeli postój nie trwa długo - automatycznie rusza. Przy prędkości do 210 km/h, w granicach swoich możliwości, ACC utrzymuje bezpieczną odległość od jadącego z przodu pojazdu.
Czasami zdarza się coś niespodziewanego. W takich sytuacjach pomocny może okazać się opcjonalny system obserwacji otoczenia Front Assist. System, w granicach swoich możliwości, ostrzeże Cię, jeśli wykryje niebezpieczne zbliżenie się do jadącego z przodu pojazdu. W szczególnie krytycznych sytuacjach Front Assist automatycznie zainicjuje hamowanie, redukując prędkość, z jaką mogłoby nastąpić zderzenie.
Funkcja awaryjnego hamowania w mieście ingeruje w układ hamulcowy przy poruszaniu się z niewielką prędkością, a funkcja rozpoznawania pieszych jest w stanie - w granicach swoich możliwości - rozpoznać nagłe wtargnięcie pieszego na jezdnię. System ostrzega kierowcę, wspomaga hamowanie lub samoczynnie hamuje, co pozwala na uniknięcie kolizji lub przynajmniej na zminimalizowanie jej skutków.